Tekken on mobile
By Scott Marley on Feb 23, 10 03:20 PM in News
• The Mishima Zaibatsu Corporation invites you to the King of Iron Fist Tournament.
• Choose to battle as one of eight classic characters from the original series and one bonus fighter, to defeat the evil Kazuya. Then face off against the powerful Jin to save him from the devil inside, or lose him to the darkness forever.
• Face enemies through four different game modes.
• Fight using one of three different control settings to assign a different level of complexity to buttons and your moves, depending on how brave you are, and unlock hidden bonus content.
• Master attack and defence moves and build devastating 10 hit combos to floor your opponent.
• Challenge your "friends" directly with the two player Bluetooth versus mode, and see how your high-score ranks against the world's best warriors.
• Tekken Mobile is now available from most mobile networks and content channels, distributed by EA Mobile. Simply search for "Tekken" in your network operator's game store, or buy and download the game directly from
www.namcomobile.com
• Try Tekken Mobile on Namco Arcade on Facebook before taking it with you on the move.
http://blogs.dailyrecord.co.uk/gamin...on-mobile.html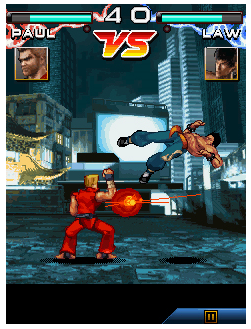 Yg penting tetep ada Paul!